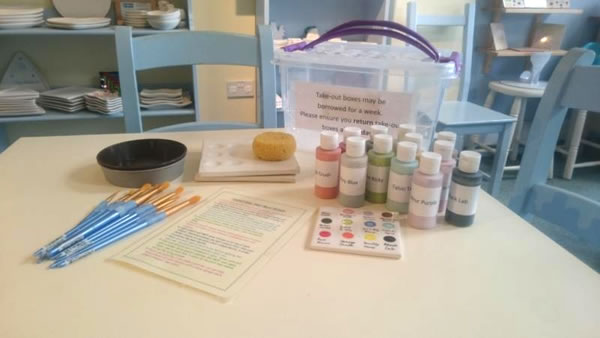 Any of the ceramics may be painted at home. You choose and pay for your ceramic plus a £20 deposit on a take-out paint box which contains 12 colours, brushes, palette, sponge and instructions. A black writing pen and nib may also be included on request.
Take-out boxes must be returned after 7 days when the deposit will be refunded if the box is complete.
When ceramics have been painted at home it cannot be guaranteed that they haven't been knocked so we do not accept responsibility for cracks appearing within ceramics during the firing process. Please ensure hands are washed before painting at home and the ceramic is kept away from any grease. It should be thoroughly dry before being re-wrapped for return.
Got paint on your clothes? Ceramic paints (glazes) are washable and will not stain clothes; they will wash out without pre-soaking.